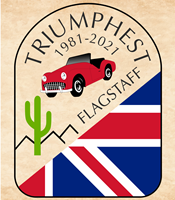 Location
2515 E. Butler Ave., Flagstaff, AZ, USA
Date
October 14, 2021
Welcome to Triumphest 2021 scheduled to kick off on Thursday October 14th, and conclude on Saturday night October 16th 2021.

By popular demand, we will be back in Flagstaff, AZ at Little America, the site of our 2017 event. The location, at the intersection of U.S. interstates 17 and 40, is easily accessible from all directions.

We look forward to seeing you for the 40th anniversary of Triumphest.
0 Members Attending this event ↵
No members have indicated they are attending yet...
Want to add yourself to the list of attendees?
Please Sign In — or Register a new account (it's free!)
event/2354